The percussion classes of the Quarteirão da Música aim at joining the ancestral culture of the old batucadas with modern techniques, using theoretical knowledge, a lot of practice and experience in different genres.
The technique, the notation, the touches, the rhythmic patterns and the interaction with the other instruments are studied in several musical genres, such as: samba, maracatu, forró, baião, xote, xaxado, frevo, international music, afros rhythms.
Professora de Percussions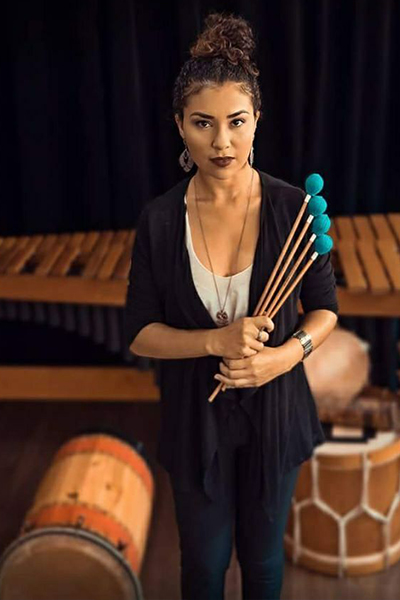 Francielly Rufino de Oliveira (Franci Óliver)
Paraense, 27 anos. Educadora musical e instrumentista. É técnica em Percussão e técnica em instrumentista de banda pela Escola de Música da Universidade Federal do Pará (EMUFPA). É graduada em música pela Universidade do Estado do Pará (UEPA).

Há oito anos participa como instrumentista de eventos, shows, gravações, entre outros, acompanhando diversos cantores, tais como, Lia Sophia, Toni Soares, Pedro Luís (Monobloco), Thamires Tannous. Leciona musicalização, as disciplinas de teoria musical e prática de banda, além de instrumentos como piano, bateria, e sua especialidade, percussão.

Desenvolve também um trabalho de pesquisa, acerca dos tambores em manifestações peculiares do Estado do Pará.